Your
Style

Speaks Volumes About The Kind Of Man You Are:
What Is

Yours

Saying?

In business and in life there are only two kinds of men…

1.  The first man walks down a busy street in one of the world's great cities.  People bustle by him, in a hurry to get on with their schedules and their lives.  Hardly anyone notices the man, and the few who do forget his existence as soon as they turn the corner.

The man enters the office where he is employed, and joins a sales presentation that has started without him – grabbing a seat in the back.  As it finishes, the leaders of the two organizations leave to discuss details over an expensive lunch.  Being left behind, the man finds his desk and takes his place.

2.  The second man walks down the same busy street in the same city.  He looks straight ahead, but can't help but feel the eyes of others.  People slow down noticeably as he passes them, trying to steal glances without being caught.  He feels powerful as he walks – there's a certain vitality in his movements – and his senses are heightened.  He hears two women whispering as he moves by them:  "I think he's in finance," the first says to the other in a low voice, "or maybe he's a CEO."

This man enters the office building that he owns, and walks past the sales meeting – he's confident his top producers will close the deal.  When the meeting is completed, he joins the others for lunch.  He takes his place at the head of the table and picks up the tab when they're finished.
There are 3 differences between these men:
1.  The first man is an employee; the second man is an owner.
2.  The first man is acutely aware of the second man; the second man struggles to remember the first man's name.
3.  The first man dresses "okay"; the second man goes to Sean McKee.
Which Man Are You?
For the last two decades, the name Sean McKee has been synonymous with quality, confidence, and appearance.  He is a master haberdasher who provides Bespoke suits, shirts, sports coats, and trousers to men who lead.  His clients are business owners, CEO's, top executives, and high performing professionals.  He also works with those aspiring for greatness, men who are not yet where they want to be in their careers and lives, but who know that one's appearance can often dictate reality.
---
Testimonial Interview: Paul S. Partner Ernst & Young Detroit, MI Client for 12 years (click to expand)
Paul S. Partner Ernst & Young  Detroit, MI  Client for 12 years
Sean: Sean here, I'm here with Paul a good client of mine. We've been working together for a long time, as in I think for about ten years, twelve years something like that and Paul he does triathlons, he's in pretty good shape. Paul tell me real quick what you like about the service?
Paul: Well it's a combination of both the quality of the suits, the materials very high so it looks good in a business setting but mostly the fit has been right, I've been trying to get the fit right at other places and the suits just don't look or hang right, they just don't look anything like what a custom made suit looks like. It's a big difference when I'm in an important meeting and a business setting.
Sean: Especially being in good shape and running, you have a difficult time going off the rack in the fit because It's just huge in the body and I'm sure they have to cut the pants way down and you end up with something that's different every time because someone different tailors it every time, so It's a different cut, different manufacturer, can't get any consistency I'm sure?
Paul: The pockets are never right and they always come out to the side too much. It just looks bad, so your quality and fit quality have been great.
Sean: Good and what about as far as me coming out to the office and how valuable your time is, is that worth it to you?
Paul: That's a big help because I do not like going into the store, into the masses with all that stuff , It's not very convenient and then I end up with large amounts of alterations to get them to fit anywhere close to being right and just the whole combination of things doesn't suit me well.
Sean: Great well I appreciate it, thanks again

---
Those who have had the pleasure of experiencing a perfectly fitted custom garment know that anything less is unacceptable.  If you are one of those men, call Mr. McKee immediately to discuss your needs.  Should the two of you decide to move forward, Sean will travel to you and provide a style consultation.  You will have access to the finest fabrics in the world, and you will be given the personalized five-star service to which you are entitled.  There are a limited number of summer appointments available, so it's best to call early in the season.
For those who have not yet reached this level of refinement, Sean understands that style may seem a less obvious necessity.  The uninitiated often wonder if their personal appearance really plays a large role in determining their success.
If you're one of those gentlemen who feel unsure, there are two things you need to consider.  First, think back to the last time you took the time to really "dress up," a time when you went all out, paying scrupulous attention to detail.  Think back and remember how the world reacted to you…
Undoubtedly you felt a surprising surge of confidence.  You likely also noticed a significant increase in attention from the opposite sex.  And you were probably just the slightest bit startled as others continuously referred to you as "sir."  With a simple change of wardrobe, you became a man of consequence – no longer an afterthought.
Now think about the men in your profession who excel.  Undoubtedly, there is someone who instantly pops into your mind.
Is this person a leader – someone others willingly trust and follow?
Is this person a role model – do others want to be like him?
And how does this person dress – does he not have a personal style that is both unique and unmistakable?
The fact of the matter is that it only takes people a split second to judge the type of man you are.  Before you've said a single word, before you've shaken their hand, before you've told them your background – before any of it – you're being judged on your appearance.
This is true in the business world, and in your personal life.  You've probably already heard the statistic that it takes a woman less than one second to decide if she will become intimate with your or not.  And you can be sure it won't be because she's glancing at your resume…
The
Un

common Thread – Ensuring Your Business, Your Legacy, and Your Suit Are Built To Last.

Leaders don't get to where they are by accident.  It takes drive, determination, and a keen ability to notice the details that others miss.  Wearing  custom tailored suits, sports coats, shirts, or a pair of trousers establishes you as a man committed to excellence.  It shows others that you are not a person who overlooks things.  Simply put; it positions you as a leader.

With the rise of e-commerce, there are more options than ever when it comes to shopping for suits and other garments.  Many websites will claim to deliver customized clothing of exceptional quality for bargain level prices.  With such "opportunities" available, a lesser man may be tempted to cut corners…

And yet you know that when it comes to excellence, there are no shortcuts.  Many online retailers advertise that their suits have a high "super count," and then act as though this should make your purchasing decision obvious.  The truth, however, is that much more goes into the suit selection process than just the thread count…
In Many Ways, Selecting
A
New Suit

Is Like
 Selecting A
Diamond

…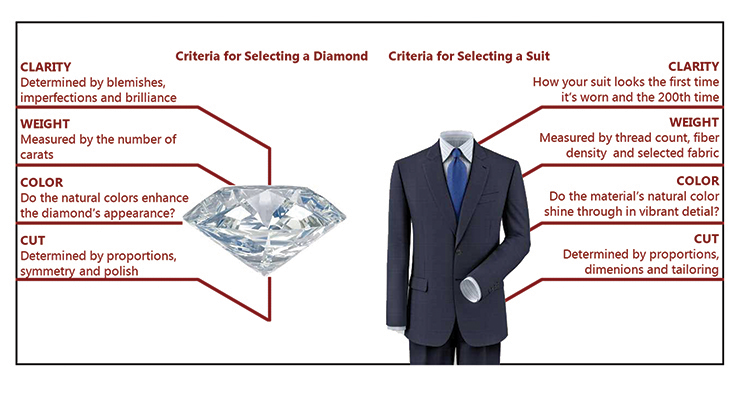 So as you can see, the thread count of a suit is just one of many considerations.  This is why you can buy two suits with identical super counts, and find that one looks like new after 10 years, while the other looks "dated" after 100 days.  The difference is in the quality of fabrics, the cut of the suit, the fiber density, and the stitching.  The quality of make is also exceptionally important, as lower end garments are fused or glued together, while higher quality suits are molded to your body – fitting better each time you wear them.  The same can also be said for custom shirts, trousers, and other fine apparel.
The
3 Strikes

Against The
 Suits You See Advertised…
All of which is to say that if you find an advertised garment or suit that appears "to good to be true," it probably is.  If you purchase your suit online, you'll be disappointed to find the following to be true:
1. They will make you perform your own measurements.  Besides the uncomfortable experience of either measuring yourself, or asking someone else to do it for you, the fit will be wanting.  In order to get a suit that's sculpted to your body, you must have a master clothier perform the measurements in person.
2. They will use an industrial machine to stitch your suit.  Because your suit is being "mass produced," it will contain a quality of stitching that is mediocre at best.  The fiber density will be lower, and the suit will begin to fall apart quickly.  This is why you want your suits to be hand-stitched, which Sean arranges for you.
 3. They will be looking to make your suit as cheaply as possible.  The companies that sell bargain suits online – even those that espouse quality – are looking to move volume.  With lower prices, their margins are lower, which leads to searches for cheaper fabrics, cheaper stitching, and fewer quality checks.  Is this what you want from a lifetime investment?
In contrast, Sean McKee comes to you, performs exact measurements, helps to select the perfect fabric, and does not leave until you have found the best fitting, best-built garments that money can buy.
In other words…
If you purchase on the web, you'll be getting the same suit a thousand men already own.
If you choose Sean McKee, will be getting a custom piece that no other man in the world will ever own.
Contact Sean to schedule your consultation today.  Appointments fill up fast, so we implore you to not wait until the opportunity has passed.
---
Interview Testimonials: Todd B. Interview owner and CEO of KYDA Technologies Detroit, MI 10 year client (click to expand)
Todd B. Interview owner and CEO of KYDA Technologies Detroit, MI  10 year client
Sean: Ok, hey this is Sean I'm here with a good client of mine his name is Todd and he owns Kyda Technologies out of the Detroit Michigan area technology industry. Todd and I have been working together, known each other for about fifteen years but he has been getting clothes from me for about ten of those years. What do you like best about the service and the clothing?
Todd: Knowing what to wear, what looks good with the other pieces you have to put on in the morning.
Sean: Did you notice a big difference going from off the rack, ready-made clothing to custom made clothing?
Todd: Definitely the not having all kinds of extra material around your waist when you put your shirt on, it's really nice, it's a good look when you take you jacket off in a meeting.
Sean: Would you recommend the service and the clothing to others who are thinking about making the switch and spending a little bit more money on custom made clothing as opposed to off the rack? 
Todd: I was just talking to an attorney the other night and he has exactly the same problem buying off the rack, they just don't fit because of his height. I was showing him my shirt and absolutely I recommend it and I have recommended it to many people who have the same problem.
Sean: Ok great, I'm glad you enjoy the service and I enjoy your business and thanks for the testimonial.

---
Understanding

The Difference Between "Cheap" And

Value

…

Sean McKee does not work with those who are looking to purchase their wardrobes at a big-box, 2 for 1 retailer.  If that's the quality and look you are after, shopping will be as easy as driving to the local strip-mall.  He does, however, offer you the unique ability to obtain the best suits and garments in the world, at an unbeatable price.  Here's why…

First, Sean has extremely low overhead.  He flies to you, performs your measurements, and assists you in selecting the perfect style, fit, and materials.  Then he oversees the creation of your garments – which are crafted by hand, ensuring they are made to your exact specifications.  Throughout the whole process it's just you and Sean, man-to-man.  You get personal service, in the convenience of your office or home, without having to deal with the time intensive and draining process of shopping for yourself.
The Same
Can't

Be Said For
Other

High-End Clothiers.

These organizations claim that because they don't operate traditional retail stores, they also have no overhead.  What they tend to leave out, however, is that:
They have an international sales force, local offices in every major city, an HR department, an Admin staff, and a marketing arm that spends millions each year trying to get your business.
Their sales associates operate on a commission structure and will aggressively try to up-sell you.
Their associates also compete for incentivized bonuses, such as expense paid trips for top producers.
Sales team members are often told to promote certain fabric manufacturers over others.
Most of their clothiers are hired with no experience – often directly out of college.  They go through a brief training period, and are then presented to you as "experts."
Their turnover rate is extremely high, so you may have one advisor one year, a different one the next year, and yet another the year after.
This means that not only may they not have your best interests in mind; they'll also be passing on all these additional costs to you.
In contrast, Sean McKee builds a lasting relationship with you.  He's been operating as a master haberdasher for two decades.  When you work with Sean for the first time, you can rest assured that he'll still be with you 10 years down the road.  He learns your preferences, stylistic goals, preferred materials, and exact measurements.  You secure a trusted adviser, and a man who is dedicated to your utter success, both in business and in life.
Do not be fooled by the others, Sean McKee can deliver an outstanding, custom-fit, custom-tailored wardrobe, for thousands less than the leading custom clothier companies.
Summer appointments are filling up quickly, so it's important that you contact Sean today to discuss your specific wardrobe needs.
---
Interview Testimonial: Mark R. Partner in a major Law Firm in Detroit, MI 5 year client (click to expand)
Mark R. Partner in a major Law Firm in Detroit, MI 5 year client
Sean: Hey its Sean here and I'm with a client of mine we've just placed an order for some clothing, some new suits and shirts. Mark is an attorney in the greater Detroit area and he's been working with me for about five years with his clothing. What do you like best about the service Mark?
Mark: The efficiency, being able get you out here as quickly as you can come out and getting the clothes ordered. I don't have to go to the store and then also as we've talked about being able to fit me, when it's hard for me to get into the store and buy something off the rack
Sean: Yeah because your 5'6 and weigh about 160 lbs. That's a tough size, you don't have a lot to choose from in the stores. Are you happy with the selection I'm able to show you with all the shirts, suits, the ties and all that?
Mark: Absolutely, I'm always happy, there's plenty of choices and when I go to the store to buy a suit off the rack there's probably five or six suits, here I'm picking from I don't even know, over a couple hundred.
Sean: Almost too many.
Mark: Yeah too many choices, I got to narrow it down to a color to find something I like.
Sean: Great and would you recommend the service to other people who have maybe not made the jump to made to measure custom clothing and maybe still shopping at the stores as far as quality and convenience and so forth?
Mark: Absolutely very happy with that. I've told people that are interested you know it's a little bit pricier for some people around the office but I've definitely told people it's a great way to buy clothing.
Sean: Great, thanks Mark appreciate it.

---
Will You
Choose

To Be
 A Man Of
Distinction?
As you well know, life is all about choices.  The decisions we make, and the paths we follow, are what define us.  And yet, at the end of it all there are only two outcomes:  Success or Failure.
By choosing Sean McKee as your personal clothier, you are making the decision to distinguish yourself from the masses.  The moment you put on your custom-made suit, shirt, sports coat or trousers, you obtain a quality of uniqueness that others can't help but notice.  You are positioning yourself as a leader, and as a man who believes that details are important.  The world reacts to you differently.
First impressions are vitally essential.  Sean works with you to deliver the highest quality and best fitting apparel you have ever experienced.  Each piece is cut to your exact proportions, giving you a powerfully physical presence, and sense of confidence, which others can feel.
And with twenty years of experience, there is no one in the world better positioned to assist you.  From your first fitting to your thirtieth, Sean will be there to serve your needs.
Contact Sean today to inquire about availability for the summer season.  Simply click the link below, and you will be able to access his direct line, as well as email address.
---
Interview Testimonials: Mike and Gwen C. President of A Major Construction Company out of Columbus, Ohio Client for 2 years (click to expand)
Mike and Gwen C. President of A Major Construction Company out of Columbus, Ohio Client for 2 years
Sean: This is Sean here, hey I'm at one of my client's house, with him, his wife and kids and we're having a good time, just got done getting some clothing and Mike's wife Gwen is the one who likes to buy his clothing. So Gwen what do you like about the service and what I provide for Mike?
Gwen: I like that you come to our house, measure and have the samples here so we can pick out everything without having to actually go to the store and purchase all of that.
Sean: And he's a lot happier too huh?
Gwen: Yes
Sean: Because Mike you don't like to shop you said?
Mike: I don't like to shop, I don't like dealing with most salesmen because there just always trying to sell you something, so everything they tell me I'm suspicious of.
Sean: Just the pressure when you go into the store right?
Mike: Right,  I'm the type of person that if I'm going to buy something I'll buy it, I don't need someone to convince me to buy it and honestly the more someone tries to convince me to buy something, the less I want to buy it, that's just my nature. I've become suspicious of and if I don't like somebody then whether I like the clothes or not, I just won't buy it because I don't want to deal with whoever the knucklehead is.
Gwen: And the quality of the clothes that you have is definitely a perk for Mike because he likes quality.
Mike: Certainly your stuff is better for me, I don't know in Columbus anyways, Brooks Brothers maybe the closest, not that there even close to you but I don't personally know of any other…….
Gwen: Well you were going to Tickners and speaking of the salesmen throwing outfits, what about this? What about that? Like no I came for a suit, I don't want all this other stuff and the pressure of that.
Mike: Right.
Sean: So I think that's one of the things people have misconceptions about my business because it's a salesman coming out to your house. You guys it's been a good experience? I'm not  pushing anything down your throat, I make suggestions and that?
Gwen: Absolutely and that's why you've been here, this is your third time?
Sean: Yes
Gwen: Yep, so for sure.
Mike: I'm the type of person if I didn't like you or I didn't like the experience, you wouldn't be back a second or third time.
Sean: Well that's great, really appreciate it you guys. Thanks.
Gwen: We appreciate you.

---
Contact Sean now for an appointment